Suddenly coming up, I decided to finally dive into this one.
Booked a course in Marsa Alam area, Egypt. Stayed at Marina Lodge, Port Ghalib. Not the brightest of all places to stay but okay for the small price I had to pay for flying and staying there with TUI. Good thing was that the Emperor Diving Centre where I booked my course was inside the compound, what was of course easy: Simply roll out of bed, have some breakfast and jump the boot.
The course kept me really busy for three days: confined practicing in the House Reef and swimming pool, instruction video's, manuals, examens, and of course: real dives! Breathing under water, effortlessly floating through beautiful coral landscapes, teeming with fish, up to 18 metres. Most difficult for me was to properly clear my ears. Forced it a bit and my ears are still recuperating from it some weeks later (I can hear everything, but hear myself too loud – like always actually).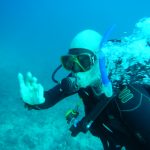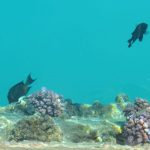 Did 10 real dives all together. Beautiful coral landscapes. I had no underwater camera and made the right photo from the harbor wall only. The left one was taken by my buddy. Below some pictures from the net that more or less represent what I saw there: