Suddenly coming up, I decided to book a Padi Open Water Diver course in Marsa Alam area, Egypt. Stayed at Marina Lodge, Port Ghalib. Not the brightest of all places, but okay for the small price I had to pay for flying and staying there with TUI. Good thing was that the Emperor Diving Centre where I booked my course was inside the compound, what was of course easy: Simply roll out of bed, have some breakfast and jump the boot.
The course kept me really busy for three days: confined practicing in the House Reef and swimming pool, instruction video's, manuals, examens, and of course: real dives! Breathing under water, effortlessly floating through beautiful coral landscapes, teeming with fish, up to 18 metres. Most difficult for me was to properly clear my ears. Forced it a bit and my ears are still recuperating from it some weeks later (I can hear everything, but hear myself too loud – like always actually).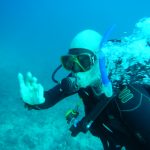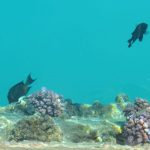 Did 10 real dives all together. Beautiful coral landscapes. I had no underwater camera and made the right photo from the harbor wall only. The left one was taken by my buddy. 
February 2022 I revisited Marsa Alam with my wife Pien, staying in an all-in resort Iberotel Costa Mares, facing a bay with beautiful coral:
The first 200 metres of the bay the bottom was covered with sea grass, sanctuary for a couple of dugong's and lots of big green turtles, both grazing the plains:
Here's some impression of the abundance of fish and the depth of the coral landscape:
And some more rare species like sharks, rays and octopus: